Balayage Hair Color Ideas - Ombre, Highlights & More
20 Ombre Hair Color Ideas
Earth Tone – Brown to Blonde Ombre
The first color combination and one of the safest is earth tones. This color is black at the roots. It then fades into a chesnut brown or light brown ombre. At the end it is a golden/yellow blonde. This would be a great combination for women of all shades. If you're not sure about ombre try these simple colors that look great on everyone with a semi permanent hair dye. Is that still too much? try a wig. There are a million wigs on the market ranging from earth toned colors to wild and crazy colors if you don't know how to do ombre hair or don't feel like go crazy with your natural hair.
Chic blonde and black hair ombre. For women of color and women who are natural here is Teyana Taylor rocking her ombre curls. This style has a lengthy black color to start then fades off into sort of a copper-ish tone. It is very subtle but the copper gives it a nice pop. To continue with the softness of this pair with your favorite nude lippie.
Girl on fire -copper colored hair
Maybe it's just me but I've seen a spark in red hair lately. This look reminds me of fire and would look stunning on women with green eyes. To get the intensity of this color try Manic Panic vegan hair dye.
Next we have this super cute variation of purple shades – One of the trendiest hair color styles. This is unicorn hair at its finest. The roots are a deep purple. It then fades to a lighter purple with pink undertones, and finally and lilac tone with hints on blue. Pair this with Mac's Candy Yum Yum for the ultimate look. Want to get these curls? Pull out your wand curler and start curling from the middle of your head instead of the crown. This will give you a soft princess type curl without being overly done.
Short ombre Bob – Light ombre hair
How cute is Adrian in this rocker ombre bob? I love how she did very loose curls with a dark root and blonde/chestnut highlights. She did everything right pulling this look together with bold lashes and a vampy dark lip.
Christina is known for rocking her platinum blonde locks and bold red lip. It was a surprise when she rocked this platinum blonde root and lavender and pink ends. This would look great on ice blue eyes and super simple makeup like: a bold winged liner ( Kat Von D eyeliner ), Tinted moisturizer (E.L.F), and a nude lip (YSL beige instinct).
Big bold bangs – Dark hair ombre
Go bold or go home. Honestly if you do bangs you have to do them right. This is a simple ombre black and honey blonde at the root. You can also choose caramel colored hair at the tips. The bangs are really what set the look off. The dark eyes and red lippie really give it a sexy look.
The freedom to wear your hair how you want. Red, white , and blue never looked so chic. I instantly fell in love with these colors they are bold but subtle. I would love to see women with big blue eyes give this look a shot.
Money Honey ! When I saw this combination the first thing that popped into my head was money. This look has a dark root transitioning to a lush green with small hints of lime green. This would be perfect for deeper skintones. Accessorize with gold accessories instead of silver.
When you hear the name lady gaga what word pops into your head? if you thought CRAZY then you're right. Crazy in a good way of course. She is no newbie when it comes to her flashy looks, so the ombre trend was no different for her. We can see here rocking these blonde and yellow locks with this space like ensemble. If you're bold enough to try this look I say go for it.
Sometimes we want to be soft and enchanting. If this is the case then pastels are a go. I really love how this is all color starting with a soft pink with lavender undertones to fade it into a cotton candy blue, which transitions to a easter green turning into a sunshine yellow.
The silver/grey ombre is one of the best chic hair color ideas for brunettes! In today's age grey means you're aging backwards. This is a really bold color for anyone to try. Don't worry adding a dark root will calm the look down and make it a lot more wearable. Because it's grey it's surely a fit for every skintone. There are so many cute hair color ideas and variations of the grey ombre hair such as ash blonde ombre or silver and light brown ombre.
Ombre with a feathered bang – Ombre blonde hair
Nicki minaj and her infamous bob take a new take on ombre. As you can see she has sort of a peacock vibe going on here. What makes this look even more unique is her thick feathered bangs. I love how she paired this with a icy blue liner and barbie pink lips.
If you've never seen the movie frozen please take a second to google it. This hair gives me the theme of frozen. It is a royal blue at the crown fading into a teal with hints of white at the end. Her make up is also so amazing here. This combination of blue would be fitting on paler skintones and blue eyes.
Half and Half – Straight ombre hair
When you see ombre it is usually changing vertically not horizontally. This look is super unique. if you're spontaneous enough to try this style why not go all out and try pigtail or two donut buns ? Wanna up the amp ? Try two totally different makeup looks at one time.
Roy G Biv – Ombre hair colors
The epitome of ombre is definitely this rainbow look. This is great hair for art pop photoshoots, and runway. If you have the confidence to rock this as your daily look why not ? You'll be turning heads. I love how this looks in a braid the colors blend together very well. If you have a crazy and unique wardrobe this look is for you.
Pretty in pink – Pink reverse ombre hair
On fridays we wear pink….hair. I'm a pink girl so I instantly fell in love with this pink ombre hair. The roots are a true barbie pink which fades into a pastel pink and white. You could probably already guess what lipstick I'm going to recommend ( Candy yum yum) this hair would not be slayed without it ! seriously !
So simple -Blonde ombre on black hair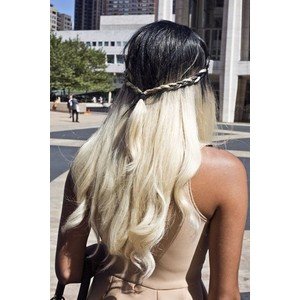 This one is a very stylish DIY ombre hair. Even the most simple colors can create a statement. This black and white (blonde) is so simple yet striking. being that the bottom is a platinum blonde, experiment with hair chalks to add colors to match your OOTD.
Strawberry Blonde & Ombre red hair
I love this light to dark look. The main reason is for the wine colored red. You usually see people with burgundy but never a true wine. I feel like this is the perfect hair color for fall. If you're into to neutrals and monochrome wardrobes then I feel like this would suit you without being over the top. Need inspiration? Kim K is your go to girl. Study her looks and how she puts together glam and casual neutral outfits. Another great combination besides blonde is black and red hair ombre.
Black Ombre Hair – Ombre for dark hair
Curly girls can wear two tone hair ombre too! Being natural myself I always thought I had to press my hair out in order to have that real ombre look. You don't! I love the mix of brown and grey, it really gives this look at very earth toned color. This is a great and easy DIY idea for hair color for dark skin. Picture this with a nude lip, gold jewelry, a crotchet crop top, and printed hippie pant. BOHO heaven ! Step out of your comfort zone and mix and match different colors. As I stated before manic panic is my favorite when it comes to hair dye. Their colors really pop and they best part is they're vegan and semi permanent!
Video: New Gorgeous Ombre Hair Color Ideas - Hair Color Trends
20 Ombre Hair Color Ideas images
2019 year - 20 Ombre Hair Color Ideas pictures
20 Ombre Hair Color Ideas forecast photo
20 Ombre Hair Color Ideas picture
20 Ombre Hair Color Ideas new pictures
photo 20 Ombre Hair Color Ideas
Watch 20 Ombre Hair Color Ideas video
Communication on this topic: 20 Ombre Hair Color Ideas, 20-ombre-hair-color-ideas/ , 20-ombre-hair-color-ideas/
Related News
3 Ways to Find Someone
How to Make Mugs
Benadryl
How to Post in FYAD
How to Diagnose Snuffles (Pasteurella) in Rabbits
Watershed Drybags Goforth Review – Best Waterproof And Leak Proof Duffel Bag
MoviePass parent company delays a crucial shareholders meeting
Where To Buy Distressed Jeans
How to Treat Menopause Naturally
Clarus Antifungal Reviews
Lyrica Reviews
Amazon has cheapest prices, study says
Top 10 LA Taquerias
Date: 05.12.2018, 02:11 / Views: 84173
---