Executive Job Interview Tips: 3 Keys to Getting a Senior Role
How to Get an Executive Job Interview
Searching for a high level executive position, like any important task, takes a well thought out process that when executed leads you to where you need to be. Summarized below are steps of a process that will lead you to the perfect executive position interview.
Steps
Get the foundation ready.Your next job search started the day you accepted your current or last position. Unlike the stock market, your future really does depend on past performance. Having real results and the ability to have others attest to them is a great lead into future job opportunities. Update your resume every six months while in a position, whether you are looking or not. This frequent update will keep all the dates fresh; accomplishments recorded, and keep you focused on doing things that really add value and that are "resume worthy." If you wait several years to do this, you will miss recording great additions to the story that is told by your resume. Another benefit of keeping your resume updated becomes apparent for the job seeker who "didn't see it coming." It's an emotional period and even if you have a cushion, there can be a high sense of urgency to get things started and a person with the foundation in place is ready.

Set your target career.Many executives today have had jobs that required multiple skill sets and exposure to many different flavors of responsibilities. You need a clear target. You have heard, "If you aim at nothing, you are sure to hit it." It's true.

Get the search tools ready.That includes a well written resume, but in today's environment there are many other tools that can be put to work. First however, you need to have a well structured resume. If you had been keeping up with your six month updates, the process of polishing this tool is made much easier. There are many, many books and much advice on writing effective resumes and proper formatting. Have several friends in the recruiting business read and provide unfettered commentary on what was missing and needed. Get very specific regarding accomplishments. For example: Instead of saying "Our strategy increased sales", you would say "Our strategy grew revenues of 2m/1997 to 4m/2004, .2b/2005, and to a peak of .4b in 2006 through a combination of acquisitions and new facility construction. Managed through two severe cyclical downturns. Executed an IPO in 2006. Managed as a public company while owned by one of the premier equity firms in the world, Kohlberg Kravis Roberts & Co. L.P. (KKR)." Use today's modern tools. Start with LinkedIn. Make sure it is up to date and the work experience matches that of your resume. Don't worry about connecting with people yet or joining a bunch of groups. Next is a website landing page. They are so easy to make and they offer your next employer or recruiter a one-stop-shop location to go to and retrieve your latest resume, connect with you, or pass your info on to others in their organization easily by simply sharing a web address. Advantages of having a webpage are obvious but worth pointing out. You are free to incorporate graphics, links to other social media, and are not bound to an 11" high piece of paper. You can incorporate a contact page as well as our next topic the blog. Create a blog or a way to communicate with your network. Not only might it help a few other people who are in a similar period of their life, but it will serve to get your name in front of people in non-traditional ways. Literature like this communicates who you are, how you think, and puts you in front of thousands of readers, one of whom might have a position ready and perfect for you. Writing these types of communications is a proactive giving process and does take time but is an important element of your search.

Engage your personal network.Okay, so now your resume is in fantastic shape, you have a website established and you have setup all the social media websites with your information including LinkedIn, Twitter, Facebook, etc. Now it is time to start using the tools to engage your personal network. LinkedIn is recommended for several reasons. One, it is self-managed by the participants and therefore your network maintains their own contact information, work history, news, groups, etc, which makes it very easy for you to reach out to them. Second, LinkedIn has made it very easy to find people and re-connect with them. We have all lost track of really great people from our past. Spend some time at this step of your job search reconnecting. Look through old companies you worked for, schools you attended, or common interest groups to find people that will remember you and send an invitation to connect with them. The message should only mention you would like to re-connect at this stage. Once you are through adding to your connections, it's time to send your first job search message to your network. Start a word document with a table containing: Priority, Who, Current Title, Notes, Linked-in Address, Contact Info, How much they know and love Steve (1-low, 10-high). Fill out a row for each contact in my network that you are going to reach out to and request they join in the search effort by being a contact and keeping their eyes open for appropriate opportunities. Sort the completed table by Priority and the last column, the "knowledge of Steve" factor, and go to work sending personalized notes to each and every contact with a copy of your most recent resume. Close the note with a request for them to give permission to use them as a contact.

Respond to postings and leads.Leads will come either via your network that you just activated, unsolicited contact via your web tools you put in place, or via job search boards that you participate in. The single biggest issue you face at this stage is standing out. Unless you have the fortune of getting a lead through your network that isn't published, you will be one of hundreds replying to any given opportunity. There is also a balance to preserve between standing out and being too aggressive. If you haven't been in a job search situation for a very long time you will run the risk of robo-sending resumes with generic cover letters in which you quickly melt into the sea of like-minded fellow job seekers, or like in my case, be too aggressive on the very first opportunity which raised red-flags with the recruiter. There is a balance to be maintained and it's important. This can mean the difference between getting to the next step or being stepped over. For network leads, use the individual in your network as a coach. Learn everything you can about the opportunity, what they need in the position, who the hiring decision maker is and tailor a response to fit this specific situation. This type of lead if you have one is GOLD. You likely have a person in your network that can help you standout and allow you to personalize a response that is perfect for the opportunity. For job posting leads it is harder to standout but there are certain steps you can take. First, the cover letter is immensely important. You must write a personal cover letter for each opportunity. If a posting highlights an important quality to be successful, call it out in the cover letter. Make this letter speak to the job poster. If you are tempted to send a generic cover letter, then you are better off just not applying for the job. Second, as time passes and you haven't heard from the lead it is appropriate to call and follow-up to express interest.

Shampoo, rinse, and repeat.Throughout your search you will be fine-tuning your resume, learning the right balance when replying, thinking of others to add to your network, sending new invitations to people to participate in your search, and responding to leads. Looking for the right job is really an amazing leap of faith. You don't know which one lead, which one person or phone call, which email, which one of the tools above is the one that started a conversation that leads to the right outcome. Therefore, you have to do them all and go back and do them again. Looking for a job is a full-time job and requires focused effort to be successful.

Have a support team.Okay, get ready, this is deep. You are going to be rejected 100% of the time until you get accepted. All of us have different ways of dealing with rejection. Drunken binges are not recommended. Have a small inner circle of friends and family with whom I am able to openly share frustrations, fears, plans, hopes, and optimism. These people act as ballast for your job search ship and keep you straight and steady. An executive job search typically takes time and will involve many frustrations along the way. Develop a support team that you trust. Keep the team small and full of people that lift you up and aren't prone to wallowing in pity. This isn't a "nice to have", but is a very important part of the search process. You are selling yourself. You are the Chief Marketing Officer of You Enterprises. Being negative or in a state of depression while searching for a job is the kiss of death. You can't hide it so get your support team in place and working for you. Do fun things with your family. Take advantage and use some of the time to reconnect with your loved ones. Keep your optimism and have people around you that help you do that.

Give it to God.Now to get a little philosophical. If you believe in a higher power, trust that what is supposed to happen will happen. In this case you have prepared and executed a great job search but you are being led to the outcome. Lean on the knowledge that the universe is much bigger than you are. You will be where you are supposed to be eventually. Let go of worry. Let go of the job you didn't get yesterday. Put all your energy into what you are doing right now. Let tomorrow take care of itself.

Now go forth and get that job.Have fun reconnecting with your friends and meeting new people.
Video: Executive Level Interviews: 12 Steps to Win the Job
How to Get an Executive Job Interview images
2019 year - How to Get an Executive Job Interview pictures
How to Get an Executive Job Interview forecast photo
How to Get an Executive Job Interview foto
How to Get an Executive Job Interview new pics
pics How to Get an Executive Job Interview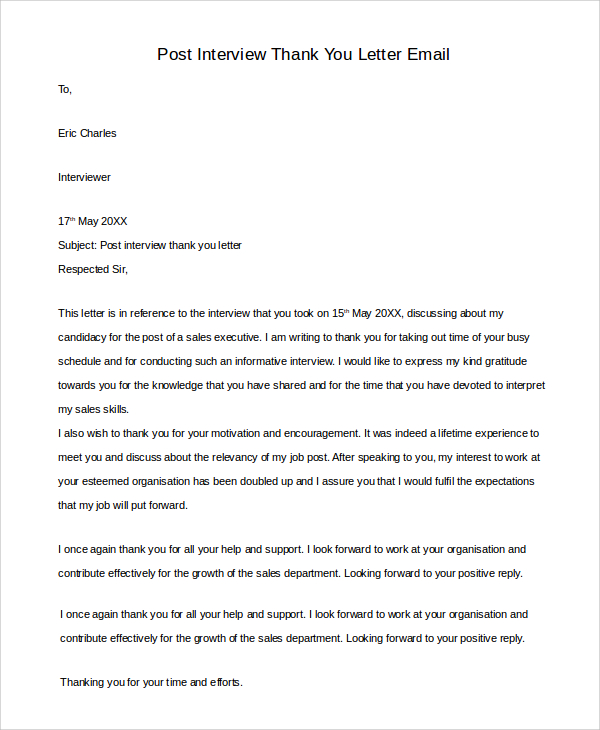 Watch How to Get an Executive Job Interview video
Communication on this topic: How to Get an Executive Job Interview, how-to-get-an-executive-job-interview/ , how-to-get-an-executive-job-interview/
Related News
The Only Shoes You Need to Invest in This Autumn, According to a Stylist
Proven tips to keep your teeth cavity free
Chocolate Coconut Protein Breakfast Shake
The French-Girl Way to Wear Leggings and Flat Boots Is Très Chill
How to Write a Unit Plan
How to Get Money Without Working
How to Plan Winter Engagement Photos
How to Calculate Exchange Rate
18 Ways to Avoid Family Stress During the Holidays
Coping With Chronic Pain
Celebrity Hairstyles: Salma Hayek Hairstyles
4 Ways to Enjoy Superfoods Without Breaking the Bank
Are Food Additives Really Safe
Coca-Cola, GM say Trump tariffs will make products more expensive
Date: 10.12.2018, 00:29 / Views: 44184
---