CHOCOLATE SMOOTHIE RECIPE
How to Make a Chocolate Smoothie
Three Methods:
Chocolate smoothies are a delicious treat for all ages! They can be decadently rich when made with ice-cream, or you can use them to get in lots of protein by making them with bananas, peanut butter, and protein powder. However you decide to enjoy your chocolate smoothie, the assembly is pretty basic: measure out your ingredients, blend everything together, pour, and enjoy.
Ingredients
Ice Cream Chocolate Smoothie
cup (180 mL) of milk

cup (59 mL) of chocolate syrup

3 cups (430 grams) of vanilla ice cream

Whipped cream to taste
Makes 2 smoothies
Chocolate Banana Protein Smoothie
1 large frozen banana

2 teaspoons (2.5 grams) of unsweetened cocoa powder

1 and cup (240 and 120 mL) of milk (dairy or non-dairy)

2 tablespoons (28 grams) of chocolate or vanilla protein powder

1 tablespoon (20 grams) of peanut butter
Makes 2 smoothies
Steps
Blending an Ice Cream Chocolate Smoothie
Add 3 cups (430 grams) of ice cream to the blender.

For a classic chocolate smoothie, use vanilla ice cream. If you want an even stronger chocolate flavor, opt for chocolate ice cream. Add your scoops to the blender first to prevent unwanted messes from splashing.

If your ice cream is really hard, try running the ice cream scoop under hot water for a few seconds.
You could really use any kind of ice cream you like. Coffee or peanut butter ice cream would pair really well with chocolate.
Use dairy-free ice cream if you don't consume dairy.

Pour in cup (180 mL) of milk and cup (59 mL) of chocolate syrup.

Pour the milk slowly so it doesn't splash too much, and use a spatula if you have trouble getting all of the syrup out of the measuring cup.

If you don't want the additional sweetness from the chocolate syrup, substitute it for 2 tablespoons (28 grams) of unsweetened cocoa powder.
Use a non-dairy milk option if you're lactose-free.

Blend the ingredients until the smoothie has a frothy consistency.

Use the blender's "smoothie" setting if it has one. Blend the ingredients for 45-60 seconds, or until you can see that all the ingredients have incorporated. If you can see streaks of ice cream or chocolate syrup, you need to blend it more.

Make sure the lid is firmly on the blender before you turn it on.
If your blender doesn't have a "smoothie" setting, just use the medium or high setting.

Taste the smoothie and add more syrup, milk, or ice cream if needed.

Once the smoothie is blended, take off the lid and use a spoon to taste-test it. If it's too sweet, add more milk or a handful of ice. If it isn't sweet enough, add more chocolate syrup or ice cream.

Be careful when taking the lid off of the blender—the smoothie may spray out a little bit. Hold a paper towel over the lid to protect your clothes.

Pour the smoothie into 2 tall glasses and top them with whipped cream.

If you want a smaller portion, divide the smoothie between 4 short glasses. Depending on what you like, you could top the smoothie with whipped cream or just enjoy it on its own.

You could even add a few strawberry slices, nuts, or sprinkles to your smoothie for an extra tasty element.
Making a Protein-Heavy Smoothie
Cut up the frozen banana into 1 inch (2.5 cm) pieces.

Use a clean cutting board and a knife to chop up the banana. This makes it easier to blend—a whole frozen banana in your blender could hurt the blades or blend unevenly.

If you make smoothies frequently, peel and cut your bananas and portion them out in individual resealable bags before you freeze them.
If you don't have a frozen banana, that's okay, too! Use a fresh one and just add 5-6 ice cubes so your smoothie will be cold.

Add the banana to the blender first to prevent splashing.

Adding the banana after you've added the liquid would make a mess, so put it into the blender before any of the other ingredients.

If you already put the milk in, try to lower the banana into the blender rather than dropping the pieces in.

Put the rest of your ingredients into the blender.

You'll need 1 tablespoon (20 grams) of peanut butter, 2 tablespoons (28 grams), and 2 teaspoons (2.5 grams) of unsweetened cocoa powder, as well as 1 and cup (240 and 120 mL) of milk. Use a spatula to get all the peanut butter out of the measuring spoon if you need to.

Use any kind of milk you like—almond, coconut, and soy are all great milk-alternatives.
Substitute peanut butter for almond butter if you prefer.
Chocolate or vanilla protein powder will taste the best in a chocolate smoothie.

Blend everything together until your smoothie has a frothy consistency.

Use the "smoothie" setting if your blender has one. Blend for 45-60 seconds, or until the smoothie is one color and consistency. Listen to how the smoothie sounds, too—you should be able to tell when all of the banana is blended because you won't hear it hitting the blades.

If you like a chunky smoothie, just blend it for 30-45 seconds so there are still small chunks of banana in it.

Taste the smoothie and make any modifications that you need to.

After the smoothie has blended, take the lid off and use a spoon to test how it tastes. If it needs to be sweeter, add a little more protein powder. If you can't taste the peanut butter, add 1 tablespoon (20 grams) more and blend it again.

Protein powder is typically sweetened in some way, which is why you don't have to use any additional sweeteners in your smoothie, like honey or chocolate syrup.
The air pressure in the blender changed while it was running, so it may spray liquid when you take the lid off. Use a paper towel to protect your clothing from splatters.

Divide the smoothie between 2 tall glasses and enjoy.

You could also put the smoothie into a to-go drink container to take it with you if you're heading to work, running errands, or heading to the gym.

You can save any leftover smoothie in the fridge for up to one day. Just make sure to stir it up before you drink it in case any of the ingredients congealed or settled.
Exploring Add-Ins
Add rolled oats to your smoothie for a thick, filling option.

Add 1/4 to 1/2 cups (35 to 70 grams) of oats to the blender along with your other ingredients.

If you're worried the oats will make the smoothie too thick, add an 1/8 cup (17 grams) to start with—you can always add more!

Throw in a handful of spinach for an extra nutritional boost.

Chances are, you won't even be able to taste the spinach, but your body will thank you for the vitamins. Just add a small handful, or about 1/2 a cup (15 grams), to your next smoothie.

You could chop the spinach up beforehand to make it easier to blend, but if you have a decent blender, it shouldn't be an issue.

Include a few drops of peppermint oil for a classic chocolate-mint flavor.

Add 2-3 drops of peppermint oil to your blender. When you taste-test, you can decide if you want to add more for a stronger flavor.

Make sure to use peppermint oil that is safe for consumption—you should be able to find it for sale in the baking aisle of your local grocery store.

Throw a spoonful of chia seeds to your smoothie for some extra fiber.

Chia seeds have a lot of nutritional benefits, with 11 grams of fiber and 4 grams of protein in 2 tablespoons (28 grams).

Chia seeds will make your smoothie thicker, too, so they're a great option if you accidentally added too much liquid.

Experiment with berries for a complementary fruity flavor.

Bananas aren't the only fruits that taste good with chocolate! Add a handful of strawberries, blueberries, or even blackberries for a new twist on the classic chocolate smoothie.

Try to use fruits that are in season so that they're sweet rather than bitter.
Video: Thick Chocolate Milkshake | Chocolate Shake | Café Style Milkshake ~ The Terrace Kitchen
How to Make a Chocolate Smoothie images
2019 year - How to Make a Chocolate Smoothie pictures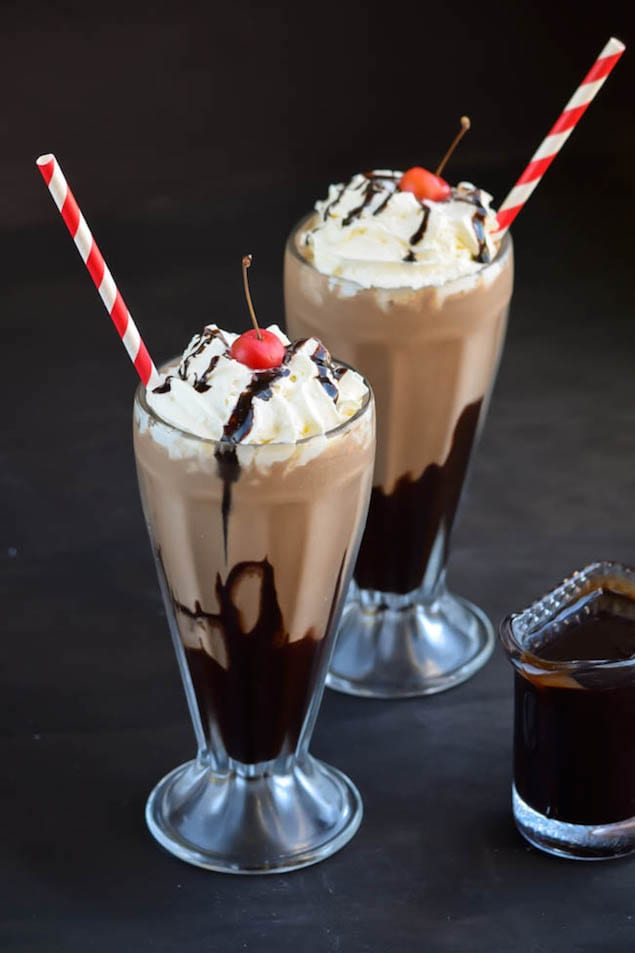 How to Make a Chocolate Smoothie recommend photo
How to Make a Chocolate Smoothie pictures
How to Make a Chocolate Smoothie new picture
picture How to Make a Chocolate Smoothie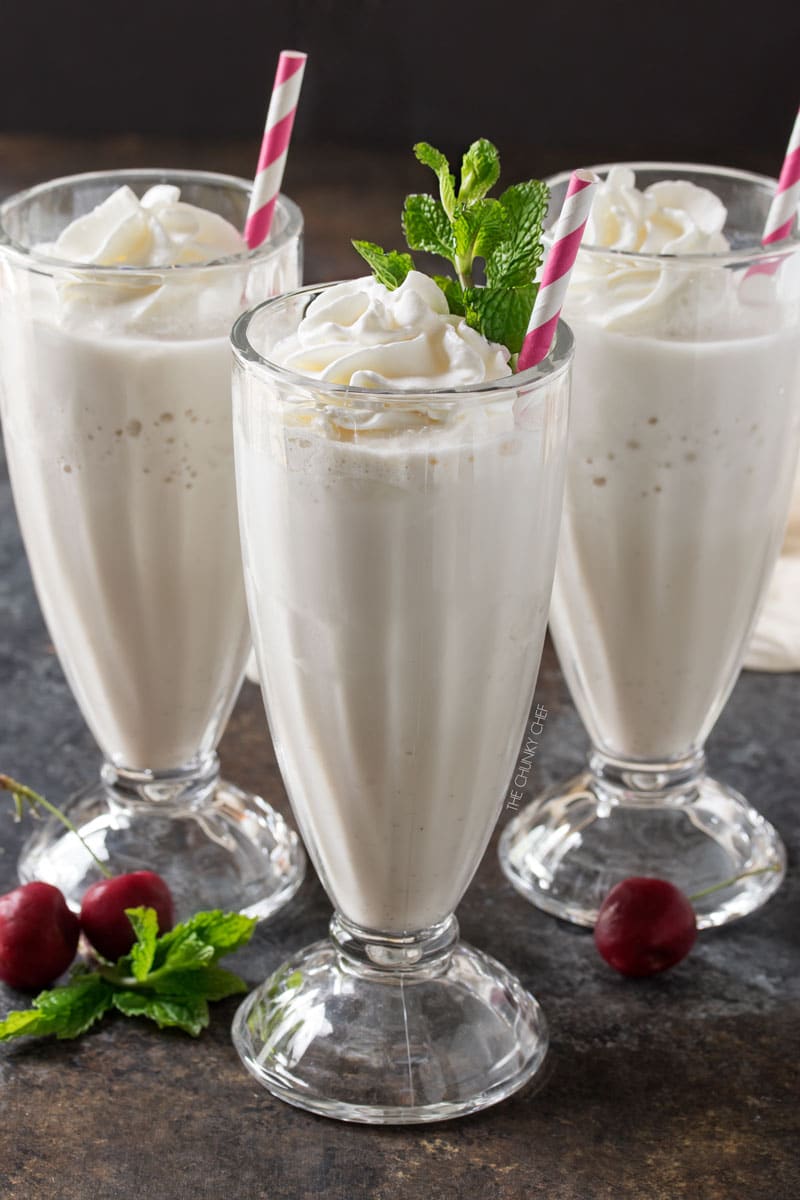 Watch How to Make a Chocolate Smoothie video
Communication on this topic: How to Make a Chocolate Smoothie, how-to-make-a-chocolate-smoothie/ , how-to-make-a-chocolate-smoothie/
Related News
3 Tennis Ball Cures For Sore, Cranky Muscles
This Is Not a Drill: Rihanna Is Launching Makeup
Daily Pulse: Is Sugar The New Smoking
300 million World Cup stadium is nearly abandoned
Pink Fashion Accessories For Teens Girls
3 Delicious Ideas For Butternut Squash
Secrets of a Top Skin Doctor
Common summer pet problems – A solution
Hoss Intropia FallWinter 2013-2014 Shoes and Accessories
Seriously, How Cool Is Beyoncé's Life
How to Keep from Getting Sick
Date: 07.12.2018, 16:16 / Views: 32273
---