Breakfast Idea: Grilled Halloumi Cheese
How to Serve Halloumi Cheese
Three Methods:
Halloumi is a cheese from Cyprus. This type of cheese is typically made from unpasteurized sheep or goat's milk, but it is now also made from cow's milk. It is a semi-hard cheese with a savory flavor that stays in its original form when cooked. Halloumi cheese can be served in a variety of ways. It can be grilled, baked, or barbecued and served with an array of dishes.
Ingredients
For Grilled Halloumi with Blueberry Jam
1/4 cup of lemon juice

1 tablespoon (14.7 ml) of fresh or dried thyme

1/4 (3.7 ml) tablespoon of ground pepper

8 ounces of halloumi cheese

2 cups of fresh or frozen blueberries

2 tablespoons (29.5 ml) of balsamic vinegar

1 tablespoon (14.7 ml) of honey

A pinch of salt
For Baked Halloumi Fries
250g (8.8oz) of halloumi cheese

75g (2.6oz) of coconut flour.

1 tablespoon (14.7 ml) of salt-free Creole seasoning

Oil spray
For Halloumi Skewers
2 packs of 250g (8.8oz) halloumi cheese

2 tablespoons (29.5 ml) of extra virgin olive oil

1 tablespoon (14.7 ml) of dried wild oregano

1 tablespoon (14.7 ml) of cracked black pepper
Steps
Grilling Halloumi and Serving with Blueberry Jam
Put lemon juice, thyme, and pepper into a shallow dish.Any type of shallow dish will work. Use a spoon or any other utensil to mix lightly. Do not remove the mixture from the dish until the halloumi has been coated in it.

Add the halloumi to the dish.You can keep the halloumi in its original block form, cut it in half, or cut it into strips. Turn it around in the mixture to coat it thoroughly. Next, allow the halloumi to marinate for one hour. Turn the cheese once during the hour.

Combine blueberries, vinegar, salt, and honey in a medium saucepan.

Simmer these ingredients on a high heat setting for a few minutes. Then, bring the heat down to medium and cook the mixture. Stir it occasionally until it has a thick consistency and then remove it.

This should take 12 to 15 minutes for fresh berries.
It will take 20 to 30 minutes altogether if you're using frozen berries.

Oil the grill rack.

This will prevent the food from sticking to the grill. First, allow the grill to heat up. After that, put oil on a folded paper towel. Use tongs to to rub the towel over the rack.

Do not put cooking spray on a very hot grill.

Grill the halloumi.Make sure the grill is preheated to medium-high. Put the halloumi in a pan and grill it until is warm. This should take about two minutes for each side. You can use a metal spatula to loosen the halloumi before flipping it to the other side.

Serve with the jam.Take the jam you made and serve it with the halloumi. It should be served at room temperature. You can put it on the side, or you can drizzle it on top of the halloumi. It is your choice.
Baking Halloumi Fries
Cut Halloumi slices.Consider the amount of people you want to feed before purchasing the halloumi. You should purchase at least one pack of cheese to make these fries. Cut the halloumi into long, relatively thin slices. They should resemble fries.

Preheat the oven to 400°F (200°C).Once you have preheated the oven, prepare the baking tray. Line the tray with parchment paper. Place tray in the oven for five minutes.

Mix coconut flour and Creole seasoning.Pour coconut flour onto a plate. Sprinkle the Creole seasoning in and stir it together. You can also use a bag to mix the flour and seasoning.

Press the halloumi slices into the mixture.Make sure they are thoroughly and evenly coated. The mixture should stick to the halloumi. You can lightly spray the halloumi with olive oil if you think it will be necessary.

Bake the Halloumi fries.After the five minutes, remove the tray from the oven. Quickly before it gets cool, put the slices onto the tray. Then, lightly spray them with oil spray.

Put the tray into the oven.Allow them to cook for ten minutes on one side. Then, flip the slices and allow them to cook for another eight minutes. They should be golden and slightly crisped around the edges when they are finished.

Serve with marinara sauce.Remove the slices from the tray and place them on plates or a tray. Serve them with marinara sauce. If you want, you can make your own marinara sauce, but if not, store-bought marinara sauce will do.
Making Halloumi Skewers
Soak the halloumi for at least two hours.You should do this to remove the excess saltiness. Put the halloumi into cold water. The least amount of time you should let it soak is two hours, but it is also okay to allow it to soak overnight.

Cut the halloumi into long slices.

Use a knife to cut the halloumi into long slices that would be the ideal size and length for skewers. Once the slices have been made, thread them onto the skewers. The amount of cheese that you cut depends on the amount of people that you want to serve, though the amount of ingredients used in this recipe is made to serve four to six people.

Use metal skewers or wooden skewers that have soaked in water for ten minutes.
You can find skewers at most supermarkets.

Drizzle with oil.Drizzle the skewered halloumi with two tablespoons of extra virgin olive oil. Make sure that the olive oil is evenly distributed over the cheese.

Sprinkle oregano and black pepper.Use a pinch of both the oregano and black pepper. Evenly sprinkle the ingredients over the halloumi cheese.

Use an outdoor barbecue.You will need an outdoor barbecue to grill the halloumi skewers. If you don't have an outdoor barbecue, you can use a hot griddle pan. The hot griddle pan will work just as well to grill the halloumi.

Put the halloumi onto the pan or barbecue.Do this after they have been skewered and sprinkled. Grill for two to three minutes on each side.

Serve with the sauce of your choice.

Remove the skewers off of the barbecue and put them onto plates or a tray. Serve them with the sauce of your choice, or no sauce at all if you don't want it. A few sauces that pair well with this recipe are smoky pepper tomato salsa, creamy Aji green sauce, and chimichurri sauce.

If you don't want to make your own sauce, look for a premade sauce, like the salsa, at your local grocery store.
Community Q&A
Ask a Question
200 characters left
Include your email address to get a message when this question is answered.
If the Halloumi is too salty, then simmer it in water for five minutes. Put it in the refrigerator afterward until it regains firmness.
Drizzle the cheese with honey to make it sweet and salty.
Warnings
Make sure that the cheese has not expired before serving it. If unopened, Halloumi cheese can stay in the refrigerator for up to a year. If opened, it will last up to two weeks if put in an airtight container.
If possible, inform your guests about what you're serving to avoid any potential allergic reactions.
Video: HALLOUMI CHEESE - Grilled on an open single deck.
How to Serve Halloumi Cheese images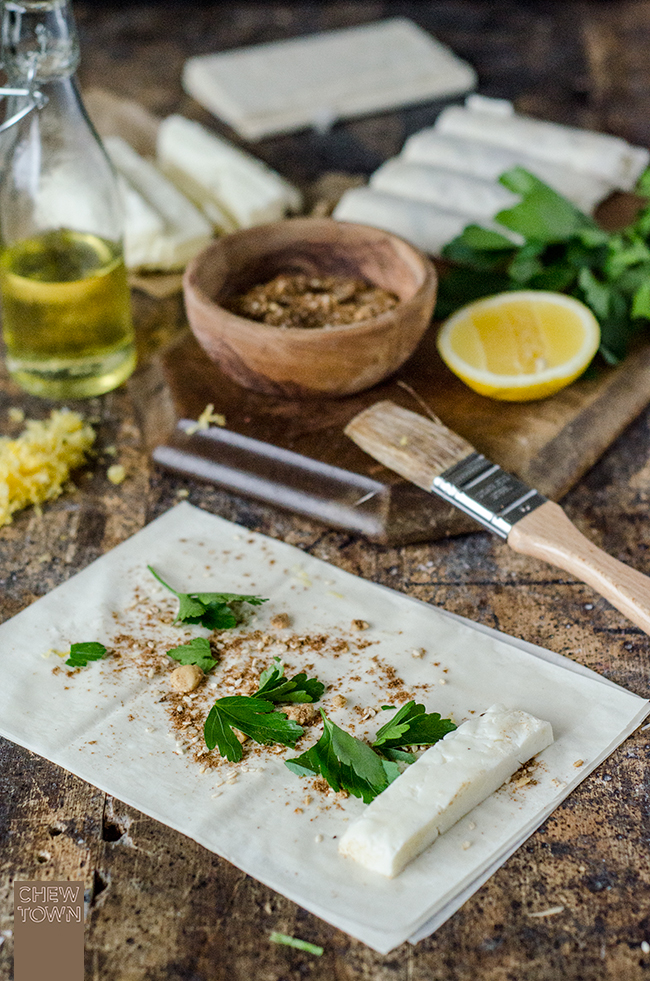 2019 year - How to Serve Halloumi Cheese pictures
How to Serve Halloumi Cheese forecasting photo
How to Serve Halloumi Cheese pics
How to Serve Halloumi Cheese new images
pictures How to Serve Halloumi Cheese
Watch How to Serve Halloumi Cheese video
Communication on this topic: How to Serve Halloumi Cheese, how-to-serve-halloumi-cheese/ , how-to-serve-halloumi-cheese/
Related News
10 Tricks To Update Your Little Black Dress
Jean Paul Gaultier Couture FallWinter 2015-2019 Collection
100-Calorie Cottage Cheese Doubles
Sao Paulo Apartment Redefines Clean Lines
How to Stop an Affair Before It Starts
Bell Sleeves are Back for Spring: 17 Gorgeous Pieces to SnagNow
Tofu Tacos with Romaine Slaw
Happy Birthday To Longchamp's Le Pliage Bag
Porsche Unveils The 911 R Steve McQueen Special
How to Avoid Queues at Thorpe Park
14 Engagement Photos That Will Make You Fall In Love With Nature
Victoria by Victoria Beckham FallWinter 2019RTW – LFW
Tips to Reduce Belly Fat Without a Sweat
Kelloggs apologizes for racist Corn Pops box backlash
Date: 04.12.2018, 20:25 / Views: 63532
---