Heated towel rails: features of the device and choice
Towel dryers are referred to as appliances of a heating property intended for installation in bathrooms of city apartments or country houses.
Today's consumer pays attention not only to the price and quality of radiators, but also to their appearance. That is, it approaches the question from all sides, trying to choose the best option.
What is a heated towel rail?
First, let's figure out what this device is. Heated towel rails are called sanitary products, which are used to dry towels and any other linen. In many ways, this element of life is multifunctional, because it plays the role of not only drying, but also a heating device. If your bathroom has a heated towel rail, you can be sure that it will be warm and dry there.
If we take into account the hot water supply system of apartments in a multi-storey building, the role of a heated towel rail will increase significantly. The device is so-called."Compensating loop", which allows you to supply hot water not only in one apartment, but also within the entire entrance.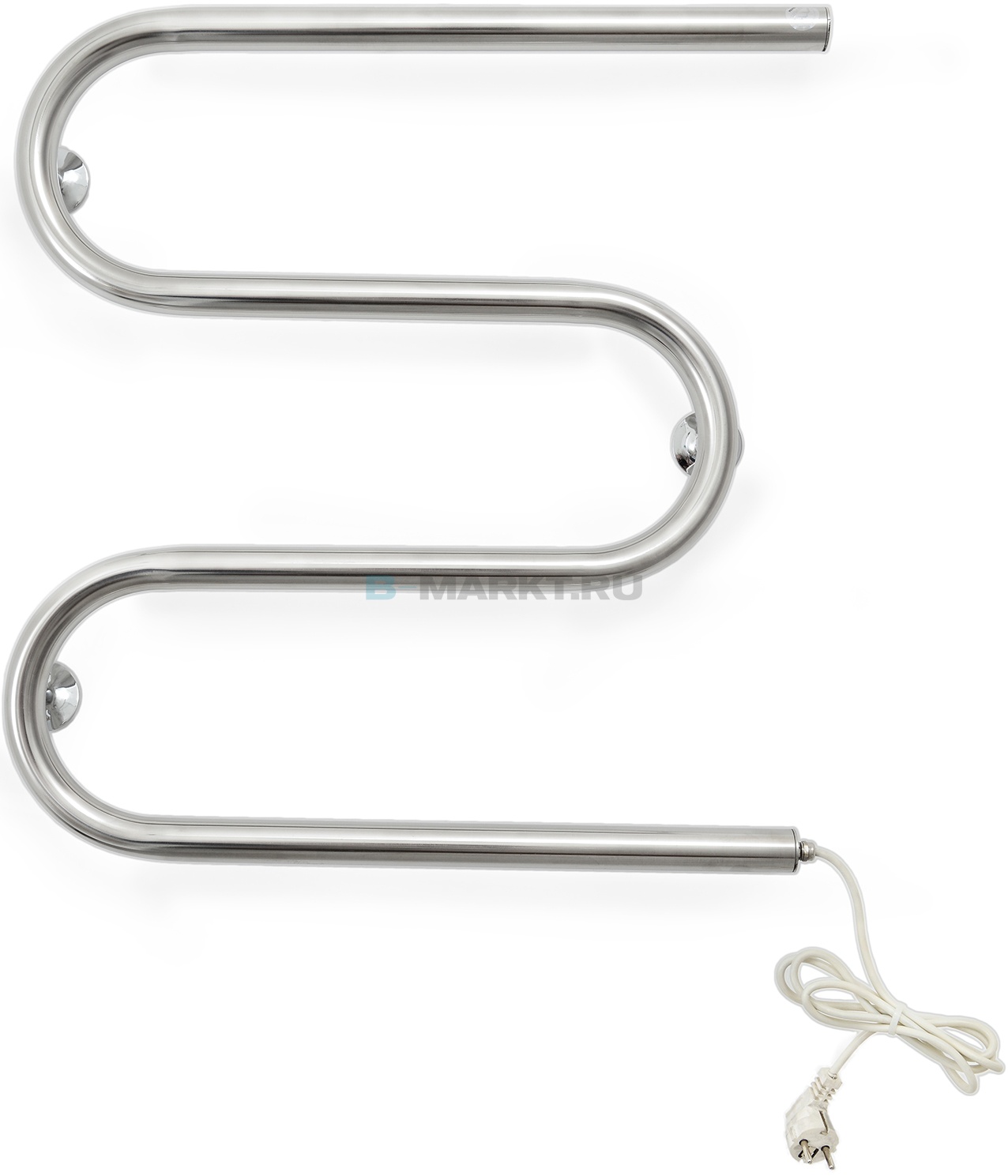 Types of heated towel rails
The simplest definition of a heated towel rail is a curved pipe inside which hot water flows. The range of these devices is very wide. If we take the appearance as a criterion, we will get three categories of towel warmer:
The standard version is the ordinary shape of the device, the bend in the profile resembles the letters "M" or "P";
Upgraded version - more perfect, has two shelves;
Elegant options are very complex designs that are not only entertaining with functionality, but also able to surprise with elegant design solutions.
In the market, the buyer will have to choose between domestic and imported goods. In this case (which is a rarity), the choice should be stopped on the first option. The fact is that the domestic version in terms of its operational parameters is much better suited for our realities. In Europe, this device is connected directly to the heating system.We have heated towel rails connected to the hot water system. About the difference, perhaps, some have already guessed. Heated water in the boiler is more saturated with oxygen. In the heating system, it does not contain oxygen at all. As a result, we get a situation where the hot water system is filled with much more aggressive water. Then the product will be faster to corrode.
The problem is that European manufacturers do not always take this moment into account. Therefore, in their half-dryers black thin-walled steel is often used. Moreover, it is also not covered with an internal anti-corrosion layer.
Electric heated towel rails
These devices without exaggeration are very convenient. Their significant advantage is that they can be perfectly installed in a variety of rooms - hallway, bathroom, dressing room, hallway, kitchen, toilet, etc.
These devices are installed at the expense of fasteners mounted on the wall. They are powered from the mains. The undoubted advantage of electric towel warmers is that they have a high coefficient of heat transfer, while very economically they consume electricity.
Often, an electric heated towel rail is called a radiator because of the similar principle of working with an oil heater. In general, the strengths of the device are all on the face:
easy operation
reliable protection against any kind of leakage;
the absence of air plugs that impede the normal progress of the heat-transfer fluid;
no risk of corrosion;
the device switches on if necessary.
When choosing an electric towel warmer, you should pay attention to some important features of its functionality. First of all, we are talking about the presence of a thermostat - a device that will be responsible for the limited heating. The thermostat is virtually irreplaceable if there are small children in the house.
Next, pay attention to thermal power. This parameter will directly depend on the surface of the heated towel rail and water temperature.
Separate attention deserves the method of attachment. Here we note a few views. There are rotary and stationary heated towel rails. Filling the device is of two types: either heating cable, or liquid - water or oil.
Electric heated towel rails are divided into two types - dry and combined.
A combined, or mixed, heated towel rail is a common appliance with a heating element inside (heating elements). Heating starts immediately after energizing. The heated towel rail is filled with liquid which heats up from TENA. This type of towel warmers on the market are more expensive. Moreover, they are less economical. If you imagine a situation of leakage of fluid from the system of the device, the heating element burns, therefore, the entire device stops working.
Now let's consider briefly the option of a dry electric heated towel rail. Such heaters are made primarily of steel. Coating - chrome or enamel. Inside the device - a special heating cable. Efficiency in such products is not very high. For example, it is smaller than that of water or combined analogues. At a given heating temperature, these devices go more inert. Heating time can take 5-10 minutes.
The surface of such electric towel warms heats up to a temperature of 50-55 degrees.
What are the advantages in dry appliances? First, we say that these models are rightly considered a very economical option. Electricity consumption is at the level of consumption of an ordinary household lamp. That is why these units are designed for continuous operation, that is - without shutdown. But, naturally, if you need to turn it off, it is done with one button.
Choosing a heated towel rail
It is always important for the customer to purchase a quality and reliable product. Therefore, he should pay attention to the passport of the goods, the warranty card, where the manufacturer's company should be indicated; hygiene certificate.
When inspecting a heated towel rail, you should definitely pay attention to two parameters:
The outer surface of the device should be flat, let's say even a mirror one;
The end of the thread should always be smooth, free from defects, for example, burrs.
Thread quality is easy to check. To do this, just enough to screw the clutch or fitting. The pipe diameter does not play a significant role. The fact is that the market offers the buyer a wide range of fittings, hence the pipes are connected without any complications.
Each device is a separate construction solution and the use of a variety of materials. The water supply system is definitely an aggressive environment containing dissolved oxygen, which threatens the pipes in the form of corrosive processes. That is why the developers of towel warmers try to deal with this situation.
One solution, for example, is the production of dual-circuit products with heat exchangers. This system allows you to withstand pressure drops, an aggressive environment in general.
Another method of resisting corrosion is the use of appropriate materials to save the device as long as possible. First of all, we mean stainless steel, all kinds of non-ferrous metals (in particular - copper, aluminum). As for copper towel rails, we note right away: they should be used mainly where all the rest of the hot water distribution is made from this material.
But aluminum can be combined with systems made of metal-plastic pipes.
Size and design parameters
When choosing a towel warmer, buyers always pay attention to the size of the appliance.If design is a matter of taste, then the size of a heated towel rail is a practical matter, because it depends on the size of your bathroom (or other room).
In most catalogs of towel warmers you will find extensive lists of appliances - from classic designs to cutting-edge options.
The design of the heated towel rails largely provides its coverage. Many manufacturers use polished brass (now - very common) or chrome. If you are a fan of more sophisticated options, then without any problems you will find samples of design design - with the effect of antique gold, aged bronze, matte nickel and many others.
Towels dryers fulfill not only their immediate mission. So, they often have additional options, among which more often there are shelves for storage, hooks for bathrobes.
Size is important in terms of the simultaneous capacity of towels and the aesthetics of the room. After all, too bulky unit can spoil the design of your bathroom. But, on the other hand, a large area of ​​the heated towel rail provides a significantly accelerated process of heating and drying towels.
Related news
Materials for thermal insulation
Nothing to hide: Kim Kardashian for a walk
How to choose a ball
How to create a cheat
Izospan AS for under-roof insulation
Why do we need a personal diary