Drawing Conclusions: Is renting really a waste of money?
Why I rented before buying a home
As a real estate agent, I encounter many clients who know exactly what they want. They come to me with a specific request — to buy, sell or rent. But it's not always that cut-and-dry. In fact, I recently finished working with my most challenging couple to date: my husband and myself. We couldn't decide whether to buy or rent our next home.

We listed the first property we ever owned in late February, had it under agreement by early May and, after a fairly smooth settlement, said goodbye to more than a decade of city living. With one daughter under 3, another on the way and both of us working mostly from our two-bedroom condo, something had to give.

I wasn't ready to move to the suburbs, but my husband was on a different page. What he really wanted was space. And land. I wanted a great location and, well, the city.

With interest rates rising and the scales about to tip from a buyer's market to a more-even playing field, the real estate agent in me was ready to be on the lookout for our next purchase. But my gut was telling me that our disagreement about what comes next and our financial situation indicated that wasn't the right move.

Time was running out, and we needed to start our search. In a typical first meeting with clients, I'd facilitate a discussion about the big picture, including financial situation, lifestyle, wish list and expectations. I'd give a breakdown of the bottom line including closing costs — anywhere from 2 to 6 percent of the sale price, monthly mortgage payments, which could include a 1-percent penalty if less than 20 percent is put down, and initial deposits. Next, I'd pull up potential listings to give a sense of options, leading to a more realistic game plan.
I did that for us, too. However, when you're emotionally involved in the process, it's a challenge to be objective and it takes a little longer for a clear picture to emerge.
In reality, if we could have afforded the location we wanted in an area that didn't require private school, I bet that we would have stayed in the city. But as new parents in the throes of building our businesses (and new homeowners who caught real estate fever in 2008), that just wasn't the case. Although we came out unscathed after five years, the proceeds from our sale were not enough for closing costs for a new home in the city, let alone a down payment on a house in an area where we wanted to plant new roots.

Sure, we could dip into emergency and retirement savings and perhaps reach out to family. But for what? To move somewhere that made us wince every time a mortgage payment was due? To a town that induced panic attacks at the thought of going home? To committing to a lifestyle we couldn't agree on? It seemed that too many factors were involved in our next move to make an investment, a decision, of that magnitude right away.

Throughout our search, we vacillated between renting and buying. Renting seemed more practical since we were on the fence about so many facets of our next chapter, but inventory was scant and the thought of not paying into an investment was gnawing at us. The properties we looked at to buy were in areas we could afford, but not on the top of our list.
Our breaking point was seeing a place whose listing photos were liberally edited and was located across from a power plant. It was utterly depressing. We saw 27 places (which is on the high side for the average buyer, I'll admit) while trying to keep an open mind about location, school districts, commute times, train accessibility, community feel and expenses we'd incur on a regular basis.

Before the housing bubble burst, conventional wisdom said that owning your residence was the ultimate savings goal, a sign that you had a stable investment. Indeed, for many, it's a signal that you had become an adult, with your very own part of that elusive American Dream.
I still believe that homeownership is important to aspire to if it's right for your situation. But in today's world more than ever, you must take care of your personal economy. Most of the time, no one really knows what that whole story entails except for you. Emotions aside, if we had bought one of the houses I scouted out, we still would have had to consider the myriad costs associated with ownership — perhaps a second car, which means budgeting for gas; insurance and a new monthly payment; two more car seats; lawn care (for all that "land" we thought we could afford); home improvements and more — all while digging ourselves out of some credit card debt and building our savings up again.

In the end, we found a lovely rental in a town that felt right for both of us. My husband has his land, albeit a postage stamp of grass with some hedges to trim. I get close proximity to the city and walking distance to our new town's "Main Street." We're saving a lot of money by shedding the responsibility of paying for parking, condo fees, city taxes and home maintenance.

And the best part, perhaps counter-intuitively, is that it's too small for us to stay more than two years, which will give us the impetus to save for that next downpayment and get a truer sense of where we want to smartly invest in our future.
Video: Renting vs Buying a house
Why I rented before buying a home images
2019 year - Why I rented before buying a home pictures
Why I rented before buying a home forecasting photo
Why I rented before buying a home pics
Why I rented before buying a home new pictures
photo Why I rented before buying a home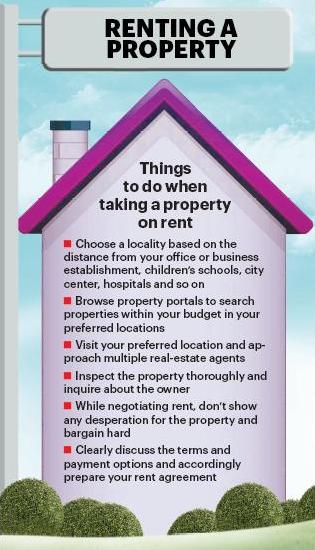 Watch Why I rented before buying a home video
Forum on this topic: Why I rented before buying a home, why-i-rented-before-buying-a-home/ , why-i-rented-before-buying-a-home/
Related News
How to Be Like Sharpay Evans in Every Single Way
5 Real-Life Makeovers to Inspire Your Next Haircut
How AC Helps You Lose Weight
Whats in the interview, and why it influenced Bezos
How To Wear The Biggest Trend Of The Year: Velvet
Trader Joes just came out with an interesting avocado yogurt
Tantra: le origini e il significato della pratica induista
How to Plan a Birthday Party
Plum Sangria
Ben Stokes On Turning It Around When Things Go Wrong
Date: 03.12.2018, 09:48 / Views: 52365
---